If you're new to my blog, my name is Sally Villarreal, and I'm the new knitting teacher at the
Michael's
in Sunset Valley and Westlake. I've been keeping this blog for years now. At some points I've been more prolific than others. The focus is knitting, crochet and other fiber arts, but I sometimes veer into the stuff of day-to-day life, politics and more. Now I'll be focusing more on my work at Michael's
If you've been reading for a while, you probably already know about my new job. I'll be talking about my classes a lot, as well as posting more general. So if you've been reading this blog and wanting to try knitting, this is your big chance.
In May, I'll be teaching four different knitting classes at Michael's. Each class will be taught twice, once at the
Sunset Valley Michael's
and once at the
Westlake Michael's
. Three of the classes are designed for beginners with no experience.
You can book classes online at the links below. You can also go to the store in person to sign up.
Michael's offers
Discover Knit and Crochet Classes
from the
Craft Yarn Council
. These are the classes I'm offering in May, but I take requests for any classes from the
Discover Knit Curriculum
. Also, if these times don't work for you, let me know because I can probably schedule the same class at a different time. If you want to learn something that isn't covered on the curriculum, I'm sure I can come up with something.
E-mail me your requests.
If you are interested in crochet, I plan to get certified to teach crochet next, but I'm not sure how long that will take. Until then, if you want to learn crochet, contact the Westlake store. They have a crochet teacher there already.
Beginning Knitting - No Experience Needed
These classes are designed for students with no knitting experience. However, they are also good for those who haven't knit for a while and need a review, or people who are having difficulty learning on their own. Of course, anyone who wants to join us to make one of these projects is welcomed.
Each class offers different projects that teach the same skills. Both classes teach casting on (putting stitches on the needle), knit stitch, binding off (taking stitches off the needle), basic seaming, weaving in ends and a basic understanding of yarn and knitting tools.
Also, if you want to take the Ruffled Scarf class later this month, these classes will teach you the prerequisite skills you need.
Discover Knit: Headwrap - $25
Saturday, May 3 from 2 pm until 4:30 pm at Michaels in Sunset Valley
Sunday, May 4 from 2 pm until 4:30 pm at Michael's in Westlake
Keep your ears warm with a simple, yet stylish headband that you create yourself.
Knit Beginner 1: Hat or Mitts - $25
Saturday, May 17 from 2 pm until 4:30pm at Michael's in Sunset Valley
Sunday, May 18 from 2 pm until 4:30pm at Michael's in Westlake
Select your favorite colors and start making your own hat or wrist warmers that you'll be proud to wear or give as gifts. You choose one project for the class, but you will get patterns for both.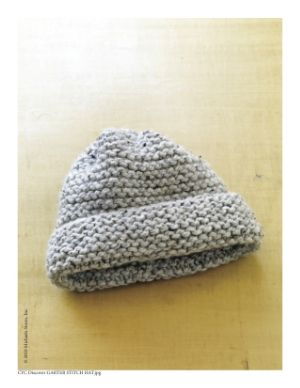 Arm Knitting - No Experience Needed - $10
Saturday, May 10 from 2 pm until 3 pm at Michael's in Sunset Valley
Sunday, May 10 from 2 pm until 3 pm at Michael's in Westlake
According to The Wall Street Journal
, "Arm knitting combines several things that are appealing to millennials: crafts projects, chunky knitwear (featured on the fall 2013 runways), social media and instant gratification." Of course, this innovative new craft is for people of all ages who have two arms.
Choose from four different projects using different types of yarn, including three cowls and a shawl. Pick one for the class, but you'll receive patterns for all four projects so you can try them all. (Pictures of the projects are coming soon, but this is me working on one of the projects at a demonstration.)
Ruffled Scarves: for Advanced Beginner Knitters - $25
Prerequisites: Knit Stitch, Binding Off
S
aturday, May 31 from 2 pm until 4:30 pm at Michael's in Sunset Valley
Wednesday, May 21 from 5:30 pm until 8 pm at Michael's in Westlake
Ruffle yarns and ruffled scarves have become very popular in the last couple of years. This is a chance to make your own ruffled scarf and get comfortable using these yarns. To get the look in the picture below, use
Patons Pirouette
, but you can use any ruffle yarn for this class, including (but not limited to)
Red Heart Boutique Sashay
,
Premier Starbella
and other ruffle yarns. Once you get the hang of it, you'll want to try them all.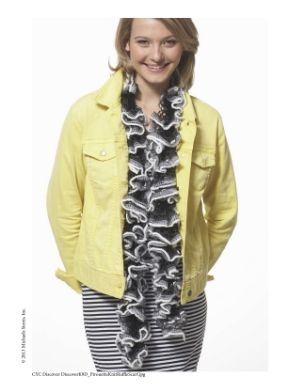 I'm excited about getting started, and I'm working hard to get my lesson plans just right. I hope I see you in the classroom!
All the problems with the schedule are fixed!
The classes with the asterisks are listed wrong on the website. The May 4 class in Westlake is the Headwrap, not the Hat or Mitts. The May 21 class is for the Ruffled Scarf, which is different than the tube scarf shown. starts at 5: 30 pm, not 5 pm. I'm working on correcting these, but the date and times are correct. Go ahead and sign up, but know that for the Ruffled Scarf class you will need a different yarn than the one listed on the website (like one of the ones listed in the class description above.)