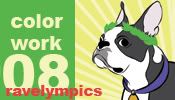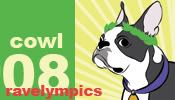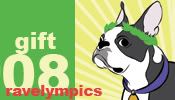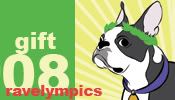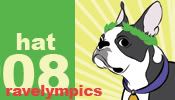 I feel like an idiot. I realized too late that I didn't have until this evening to finish my
Ravelympic
projects. The Olympics ended this morning in Beijing while I was still asleep. Everything was timed on Beijing time. Otherwise I'd have at least one or two more
FOs
.
I'm down to the last toe on my
Wickerware

Socks
. Believe it or not, I did a lot of knitting while watching "The Dark Knight" last night. My friends and I went on a whim, so I didn't bring good theater knitting. But I borrowed a mini flashlight from Lyndsey to periodically double check where I was. I stopped when I got to the toe, because I needed to do more counting. I think I did about 40 rounds.
I also gave
this hat
as a birthday gift, along with some other goodies wrapped in fabric. (The recipient is a seamstress.) I knew the right occasion would come along, and lime green suits her. The fit was a little big, but the slouchy look worked pretty well. I wish I'd remembered my camera.
I've passed the halfway point on the
Spiraling Stripes Hat
(aka Soy Wool Spiral.) I suspect that I will have to add more "wedges" to make it fit my ginormous head.
Despite my stupid mistake, I'm proud to have finished four projects, taken home seven medals for Team Austin. (Team Austin had 21 members and won 20 medals.)
I am about to go delete all the
Ravelympic
projects that were never started, with the exception of
Odessa
. I bought beads to match the yarn yesterday, and I plan to get started on it in the next day or so.